In addition to providing student and university groups with an unbelievable Great Wall experience, we also believe in improving our global community, which we are proud to contribute to with our Great Wall charity treks. Our Great Wall charity trekking programs operate similarly to our school expeditions. Instead of colleges and universities however, we partner with a number of voluntary organizations, companies, community groups, and non-profits for fundraising events.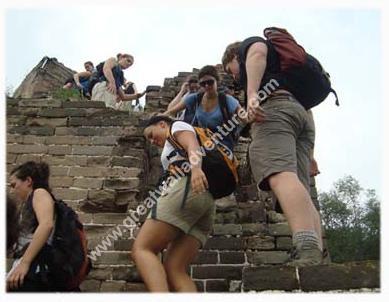 Just think, what could inspire your association more than a thrilling and exhilarating adventure on the Great Wall? Not only is it a chance to visit one of the world's most impressive historical sites, the Great Wall, but also it offers a rare opportunity to trek and camp in a remote part of rural China and to experience local life in its most unspoilt state. As with our school expeditions, we can take care of your entire trip needs, be it airfare, lodging, further sightseeing, and hiking and camping materials. And of course, our rigorous safety standards still apply. Please note that for our Great Wall charity treks we do not accept individual applications, and we will direct all individuals interested to charitable organizations near their locations.
If you are a voluntary/charitable organization, please contact us today if you are interested in working with us on a Great Wall charity trek. As a leader in responsible travel, we understand the hard work and dedication it takes to making a difference in the world. Please let us reward your effort with a journey that you'll never forget.
To learn more about our charity treks please go to
http://www.greatwalladventure.com/chinaschoolexpeditions/great-wall-charity-trek.htm