A two-day hike along a remote stretch of China? Great Wall affords endless views without the distraction of crowds.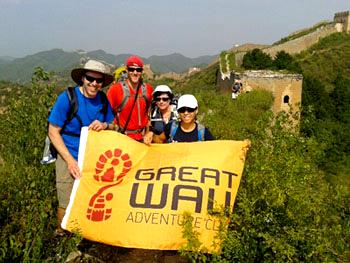 The
Great Wall
of China, one of the world's modern wonders, and one of the greatest technological achievements in all of mankind, has long held the imagination of writers, scientists, soldiers, and now of course, travelers and adventurers. Within its countless bricks and watchtowers lies the boundless spirit of Chinese civilization. When you walk on its sacred ground you will feel this spirit all around you. The fun and excitement you get from exploring this marvel will stay with you for the rest of your life. We believe that everyone should experience this feeling at least once in their lives, and we at the Great Wall Adventure Club want to help you acquire this feeling.
Introduced and recommended by Fodor's China Guidebook (right), The Great Wall Adventure Club has received high marks and praise from all comers, from international tourists and hikers to the
Wall Street Journal, USA Today, New York Times
, CNN and NBC, which documented one of our hikes. If you are looking for some excitement and adventure, along with some fun, then don't just be another brick in the wall, come along and see what all the fuss is about!
The Great Wall Adventure Club is committed to environmental sustainability and historical education.