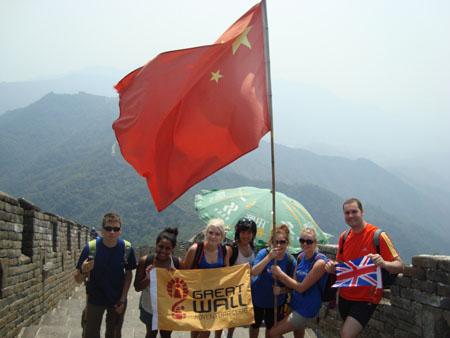 G
reat Wall Adventure Club has specialized in Great Wall trekking and camping for the past two decades, with a particular emphasis on handling large groups and parties. We have vast amounts of experience in this, as we lead and guide Great Wall treks on almost every day of the year. Our commitment to quality and service has paid off, as our trips have been recommend by such esteemed sources such as the Wall Street Journal and most recently in Fodor's 2010 China guide. The Beijing Olympics of 2008 was our time to shine, as we lead many Olympic groups upon their Great Wall trips. Some of the teams we lead were the USA Softball Team and the UK Men's Rowing team, along with other Olympic teams from Russia, Singapore, Australia, and New Zealand. During their coverage NBC even broadcasted one of our Great Wall hikes. Just this past summer we led two groups of UK students, aged between 19-23, on their 12-day Great Wall trek, teaming with one of the premier school expedition services in the world. Both groups (30 and 28 students respectively), embarked on our 12-day Great Wall route sleeping on the wall and in local family's houses along the way. The feedback we got back form the participants was tremendous. They raved about our guides, the hiking route, and our service. The experience was so positive that for the year of 2011 we plan on hosting about 400 UK students on their Great Wall school expedition.
Excellent Value for School Expedition Organizations
We pride ourselves on being the most knowledgeable and dependent of all China travel groups, as our field guides go through rigorous training and preparation, much more so than any other organization. Our team has an impeccable safety record, ensuring your expedition is a safe and secure one. For planning and leading your Great Wall expedition we are your one-stop place for all your needs. You don't have to look around for a bunch of different organizations that meet your needs. We can take care of all your logistical and planning requirements during your time in China, from your accommodation to your trek supplies. As you yourself are a provider of school expeditions that are largely financed through hard work and fundraising, you know what it means to make the most of your resources, and we do too. Last but not least, our prices are extremely competitive, as you won't find a better price for large group Great Wall travel.
Great Educational Opportunities
In addition to the experiences you can gain from our informative Great Wall hikes, we also offer other valuable educational opportunities. We are well connected with various educational and cultural organizations in Beijing, allowing us to develop for you tailor-made study-abroad and summer camps on all aspects of China's rich cultural heritage. These can range from traditional Chinese martial arts, medicine, performance arts, and cooking.
For Individual Students and Parents
You're probably thinking to yourself, why should I sign up for a school expedition? Well, if you want to explore the world, meet new people, create friendships that will last a lifetime, while also gaining skills that will help you into adulthood, than a school expedition is the perfect opportunity to do just that. Major companies and employers in the USA and UK state that embarking on a school expedition as one of the most important accomplishments you can achieve while at school, making for perfect resume detail. Parents will also feel results as well. In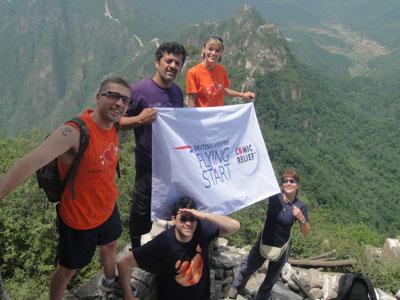 addition to having the child out of the house for a bit, you'll see your son/daughter returned both confident and ready to succeed in their further studies and pursuits. If you feel that a school expedition is right for you and your school, meet with a trusted teacher or professor, and ask him/her to get in contact with our partner expedition agents. See you on the wall!
Other Large Groups
Other large groups and parties are still welcome to hike with us on the Great Wall. In addition to school expeditions, we also cater to organizing special Great Wall events for company outings, non-profit organizations, and other large groups with special needs. For that extra special touch we can even organize banquets and feasts atop the Great Wall itself!
For more information, please go to
http://www.greatwalladventure.com/chinaschoolexpeditions/index.html